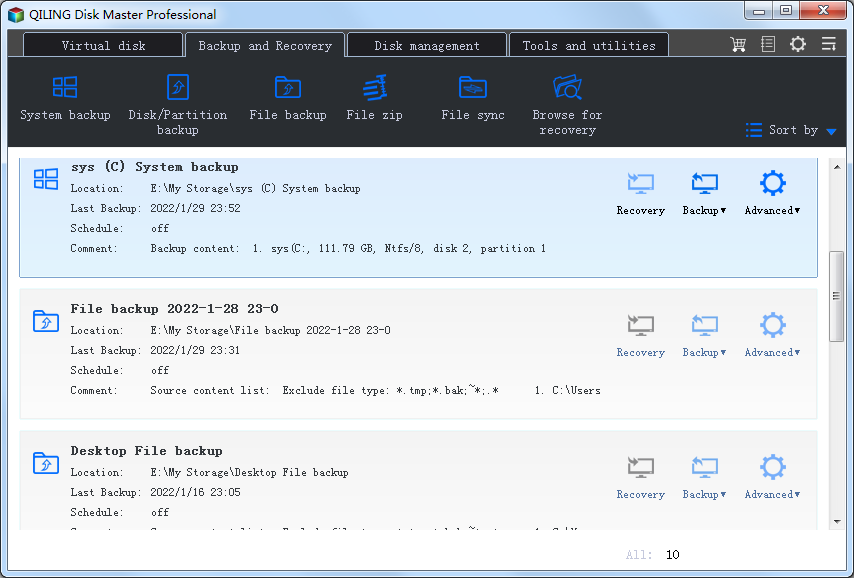 QILING Disk Master Professional is a multi use software which doesn't only secures your backup but also offers partition assistant and ram disk to speed up the performance of your PC. The program is supported by windows 10.
QILING Disk Master Professional is an easy to use software with a very simple user- interfance, some may refer this simple to old but for us it's the basic one. The main screen has 4 tabs with settings toolbar.
The first tab is of Virtual Disk where one can create a a virtual image or add an existing virtual disk image to the list. The browse feature can be used for this purpose.
The second tab is of backup and recovery which lets you create a backup and upload the existing backup. You can either backup the complete disk or just a parition.
The third tab is of disk management which shows the complete presets of the partitions present on the hardrive. Here you can rezie, format, create or delete the partitions. Basically this tab lets you play with your hardrive by making managing it.
The last tab is of utilites and tools which comes with basic features mentioned in the feature below.
Features:
RAM disk : increase your system performance by optimizing the ram
Bootable Media: Create bootable USB Drive
Clone: Clone windows from one system to another
Migraate OS to SSD/HD: Easily move operating system from one harddrive to another
File Shredder: A secure way of deleting files.
Wipe Data: Easily delete data from a partition with 1 click.
Mount Image File: Access ISO files via this program
QILING Disk Master Professional Free License Download
QILING Disk Master Professional is a shareware software which come with a 30 Day trial and costs $39 Per license/serial key but now as a part of giveaway campaign by sharewareonsale, every one can download the free Pro version of this product by simply visiting the page. See instructions below.
To Get QILING Disk Master Professional Free license Follow :
1. Download : QILING Disk Master Professional | 14 MB
2. Visit the Giveaway Page and click on download now, Enter your email and username
3. Install the program and activate it using the received license key.
Terms and conditions
The promotion will expire after 48 Hours
No Aftermarket customer support or free updates
This is a strictly non-commercial license and intended for personal use.
The post QILING Disk Master Professional Free License Giveaway PC appeared first on Free Giveaway and Software.
(Visited 28 times, 1 visits today)